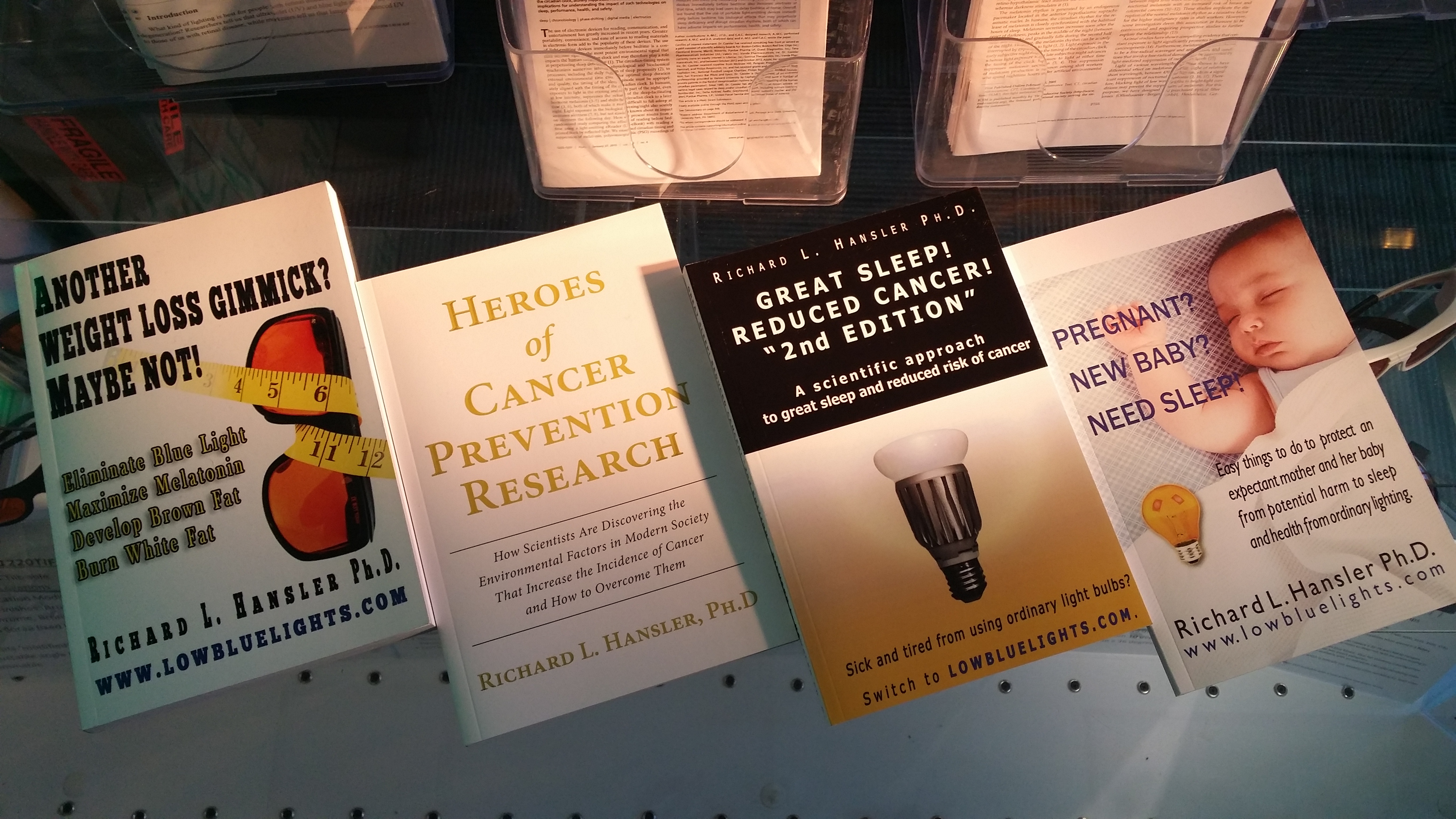 MAIN MENU scroll down to read  BOOKS on LIGHT HYGIENE
---
---
WHY? scroll down to read  BOOKS on LIGHT HYGIENE
---
FREE BOOK on PDF format:
Avoid Alzheimer's Disease by Dr. Richard Hansler
BOOKS FOR SALE:
Presently, I sell Dr. Richard Hansler's books. He is a retired GE lighting physicist who initially spearheaded the idea of wearing melatonin onset eyewear.
I, too, conceived this very same idea, but totally independent of him, in 2014. When I began to pursue my idea to wear and sell melatonin onset eyewear, I soon was shocked to find on the internet that someone had beaten me to this idea years earlier.
Amazingly, the filtering lenses we selected for the melatonin onset eyewear we promote nearly have the exact same transmission curve, which were decisions we both made from interpreting the same available data while separated by time and place. Discovering this agreement of thought was very reassuring to me that I was on the right track, in addition to the research paper that experimentally confirmed my selection of filtering was correct.
So, upon finding this other person who believed and practiced the same thing I did, I immediately contacted Dr. Hansler and, shortly thereafter, met with him and his team in December of 2014.
After that meeting, I began pouring through his books and those of others who have written on the topic of light-hygiene. Dr. Hansler's books represent the phase in history when someone began to take SPECIFIC ACTION and offered a SPECIFIC SOLUTION against the poor light hygiene caused by artificial lighting. He was also among the VERY FEW when he started warning people about the health issues surrounding the common usages of typical lighting in the home, during a time when very few would even tolerate hearing that such a problem truly existed.
His books are a unique crystallization of knowledge that have greatly added to my understanding.
Although technically he and I are business competitors, vying to invent and sell hardware to overcome light-hygiene problems, I consider him a friend and mentor nonetheless. I believe I am much further ahead in my business because of the mountains he leveled before me. When he first introduced the idea of wearing melatonin onset eyewear, he was mocked, but, today, this idea is no longer considered a joke thanks to his steadfastness.
I hope we both continue to contribute much to a world seeking relief from poor light hygiene, as no one business will be able to tackle this monster alone. I also have well wishes for all of the other researchers, inventors and entrepreneurs I have recently met who are also joining this effort to find solutions for a world made sick by improper light.
THE PRICING LISTED BELOW IS FOR NEW YORK STATE WHERE PEOPLE PURCHASE THESE BOOKS IN PERSON.  FOR PERSONS ELSEWHERE CALL FOR PRICING, (716) 361-4111. SOON THE SHOPPING CART WILL BE WORKING ON LightForFitness.biz  FOR YOUR SHOPPING CONVENIENCE. IN THE MEANTIME, THIS LIST IS BEING MADE AVAILABLE.
CLICK ON GRAPHIC TO ENLARGE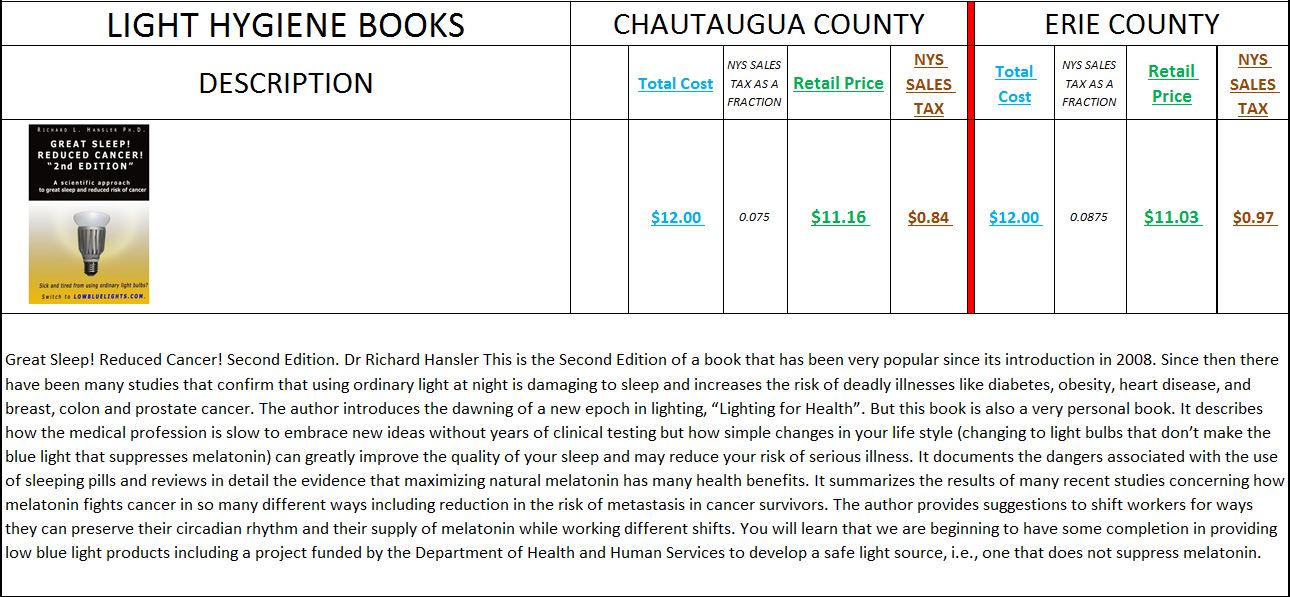 CLICK ON GRAPHIC TO ENLARGE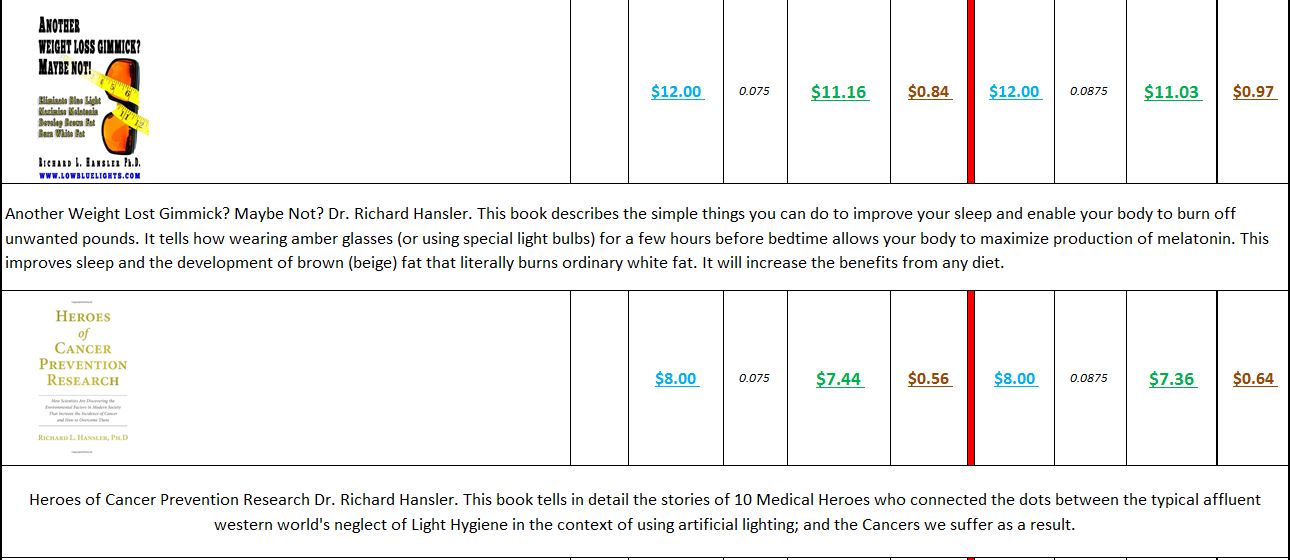 CLICK ON GRAPHIC TO ENLARGE

---
WHY? scroll up to read  BOOKS on LIGHT HYGIENE
---
---
MAIN MENU scroll up to read  BOOKS on LIGHT HYGIENE