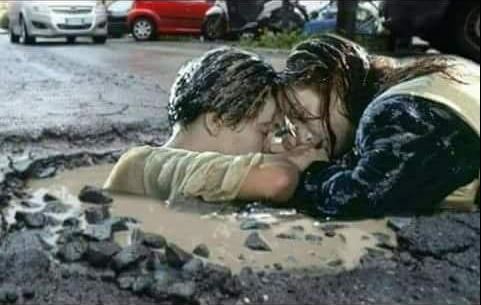 MY STORY
Before the County sends you the check for damages to your car,  you sign and mail back a General Release and Settlement of Claim.
By clicking on the General Release and Settlement of Claim; (highlighted in blue below), you can see how much I was awarded for damages, for damage done in the spring of 2017 to my car. When you see the amount I was awarded you will realize it is worth your time to file a complaint asking to be made whole, if you experience damages to your car from potholes.
I hope that interested persons in and around Evans NY will post pothole information (pictures, locations, date reported to whom) here so that if and when someone wonders if that pothole has been reported already, they can know it was reported and thus can also mention this in their damage claim report to the county.
It is good to mention (with proof) in your claim report that the county already knew about this pothole, prior to the day your damage was sustained (just in case they claim they had no prior knowledge of the pothole in question).
The moral of my story……WITHOUT THE PRIOR REPORTING OF A POTHOLE THE COUNTY WILL NOT ALLOW YOU TO CLAIM DAMAGES IF YOU ARE THE FIRST ONE TO REPORT IT ON THE SAME DAY YOU EXPERIENCED CAR DAMAGE.
see my General Release and Settlement of Claim
HOW TO
THINGS TO KNOW
POTHOLE MUST OF BEEN REPORTED PRIOR TO YOUR DATE OF DAMAGE TO BE ELIGIBLE TO GET COMPENSATION
Evans Town Supervisor Facebook  https://www.facebook.com/MaryHosler4Evans/
Mail everything Registered
Keep copies of everything you send
Be prepared to deliver paperwork in person (they lost everything I mailed to them, BUT the fact I mailed with registered mail was proof that my complaint was filed correctly within the 90 day window.
Call them occasionally to make sure the process is moving forward and not lost.
PICTURES OF REPORTED POTHOLES
LIST OF EMAILS AS PROOF OF SPECIFIC POTHOLES REPORTED
MY PLEA TO NEIGHBORS REGARDING REPORTING POTHOLES FOUND ON LAKE SHORE RD and MAIN ST in ANGOLA 
Dear Neighbor,
Hi, I (we) are reporting to Erie County the potholes on your road. I document these potholes on my website with a picture and date and a link. The link associated with a given picture takes you to the email I sent to Erie County listing that specific pothole. This proves when the county was informed.
This serves two purposes:
To give Erie County more incentive to replace Lake Shore Rd in Evans as they did in Hamburg and Main St in Angola.
Provides another witness for pothole-damage-claimants.
If this interests you, you may want to visit the following websites:
http://www.lightforfitness.com/evans-new-york-pot-holes-reported/
http://www.lightforfitness.com/evans-new-york-pot-holes-reported/old-lakeshore-rd-evans-ny-reported-potholes/
http://www.lightforfitness.com/evans-new-york-pot-holes-reported/old-lakeshore-rd-evans-ny-reported-potholes/proofs-of-pothole-reports-for-lakeshore-rd-in-evans-ny/
Also, you can find these webpages by Google-ing "Evans New York Potholes".
If you want to take action I am accepting help from picture-takers who dedicate themselves to a section of Lakeshore Rd or Main St, Angola. Such picture-takers will email to me updated pictures periodically.
As a business-owner-picture-taker, such pictures posted on my website will have the business's name and any other wanted information in the picture's title, as a kind of caring-type-local-business advertisement.
BTW patch work done by the County will be inspected by me (or another) and remaining inadequately filled or failing patches or neglected potholes will get re-pictured (on the earliest sunny day to enhance shadowing for depth perception)  and re-reported, so the county cannot argue against a pothole-damage-claimant by asserting that that section of road was just patched.
Sincerely yours,
Alan Haungs
1333 Peppertree Dr.
Derby, NY 14047
Alan.Haungs@LightFitness.com