FREE: Sit and listen and ask questions.
TOPIC: I will be reading aloud from the book pictured below about the people and the research history that has led us to understand the correlation of certain cancers (breast cancer) to the timing of blue light exposure to the eyes from commonly-used-typical-household evening-artificial-light-sources. The author is a GE lighting Physicist, who after retiring learned about circadian disruption, such circadian disruption caused by the artificial lighting he was partially responsible for engineering. He has since published this and other books so as to redeem himself from his contribution to the cause of circadian disruption.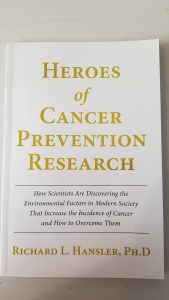 BOOK
Saturday-Angola NY
September 7, 2019
TIME: 11 AM – 1 PM. If people want to remain and chat beyond 1 PM, we will move to a nearby restaurant. Call me if you are coming late and want to know if the meeting has been extended past 1 PM. Call me, Al at (716) 361-4111.
PLACE: Angola Public Library 34 North Main St., Angola, New York. We will meet in the upstairs conference room. After 1 PM the conversation may continue nearby at CALA'S Kitchen located at 6888 Erie Rd, Derby, NY.
Tuesday-East Aurora NY
September 10, 2019
TIME: 6 PM – 8 PM.
PLACE: East Aurora Public Library  550 Main St, East Aurora, NY 14052.
Goggle Directions to LightForFitness, 6878 Erie Rd, Derby, NY