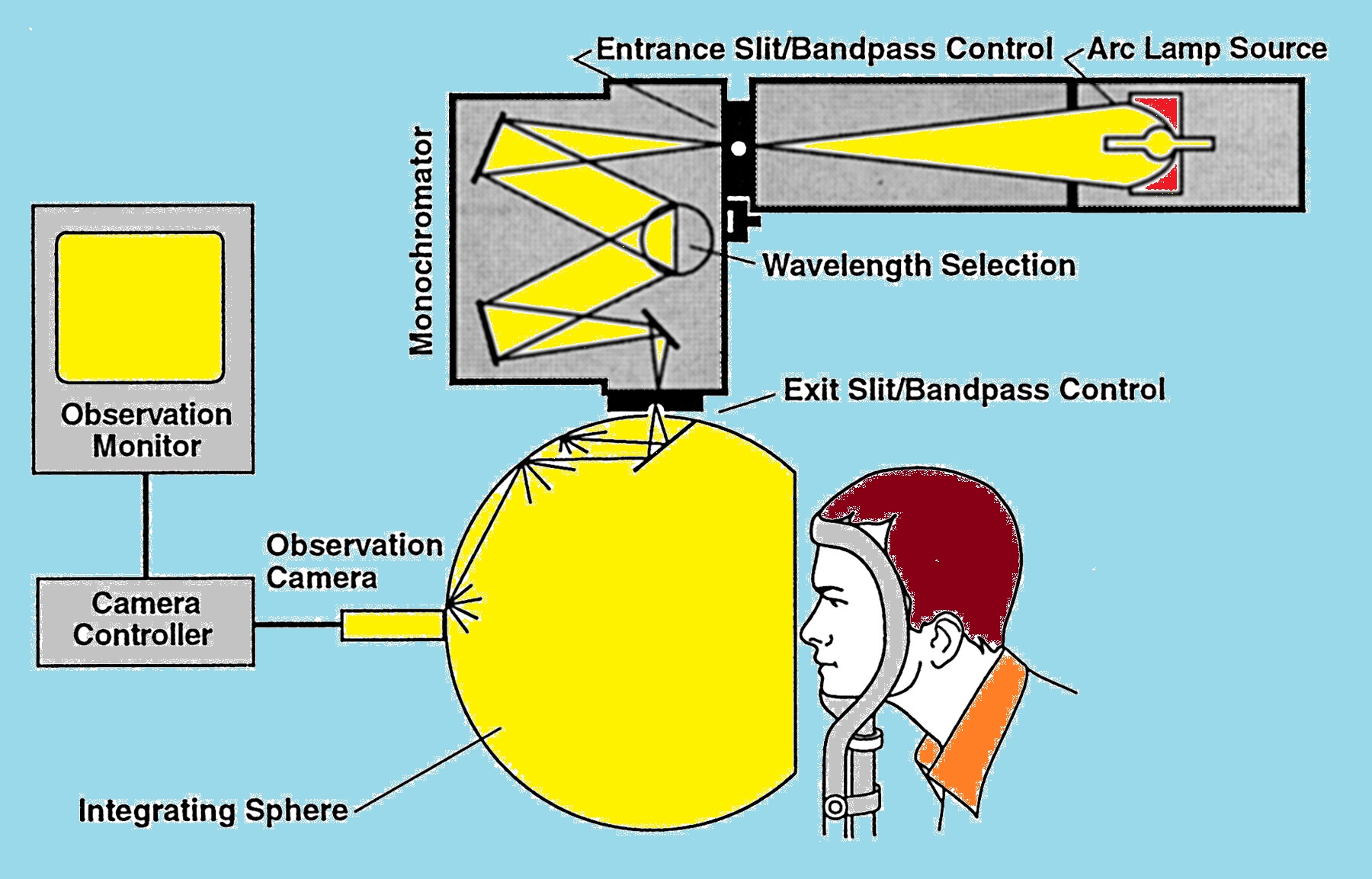 MAIN MENU scroll down to read MELATONIN ACTION SPECTRUM
---
---
EXPLANATIONS OF WORDS scroll down to read MELATONIN ACTION SPECTRUM
---
MELATONIN ACTION SPECTRUM:
What is an "action spectrum"? The "spectrum" that interests us is the full range of colors (called wavelengths in science) that the human eyeball can react to. The word "action" as used in this context, describes how much impact any given color (wavelength) has on the eyeball, to signal to the master clock in the brain, (click Suprachiasmatic Nucleus)  and the pineal gland (click Pineal Gland) , whether to advance (click– advancing)   or delay (click – delaying) melatonin onset for the next 24-hour cycle,  or otherwise to totally suppress the instantaneously scheduled melatonin onset, during the present 24-hour cycle. (Click Melatonin Onset ) . Therefore, the action spectrum below is a graph that tells us what colors are most important to improve or degrade light-hygiene, for the various times of exposure during the 24-hour and the 365 day yearly cycles. (Click  Light-Hygiene).  The human eye/retina has many "action spectrums/graphs": for example, one for perceived brightness during daylight, another for night vision, and even another for effective light toxicity. The action spectrum below concerns itself with the magnitude of the impact the various instantaneous purified colors entering the eyeball has on bloodstream timing and amounts of melatonin.
In 2001, the graph (melatonin action spectrum) below paved the way for a ground breaking discovery; the purpose of the  intrinsically photosensitive Retinal Ganglion Cells (ipRGC), on the retina in the eyeball. It is shocking how recent is the birth of the science of light-hygiene.
Click to read this research paper: "Action Spectrum for Melatonin Regulation in Humans: Evidence for a Novel Circadian Photoreceptor".
(CLICK ON GRAPHIC TO ENLARGE)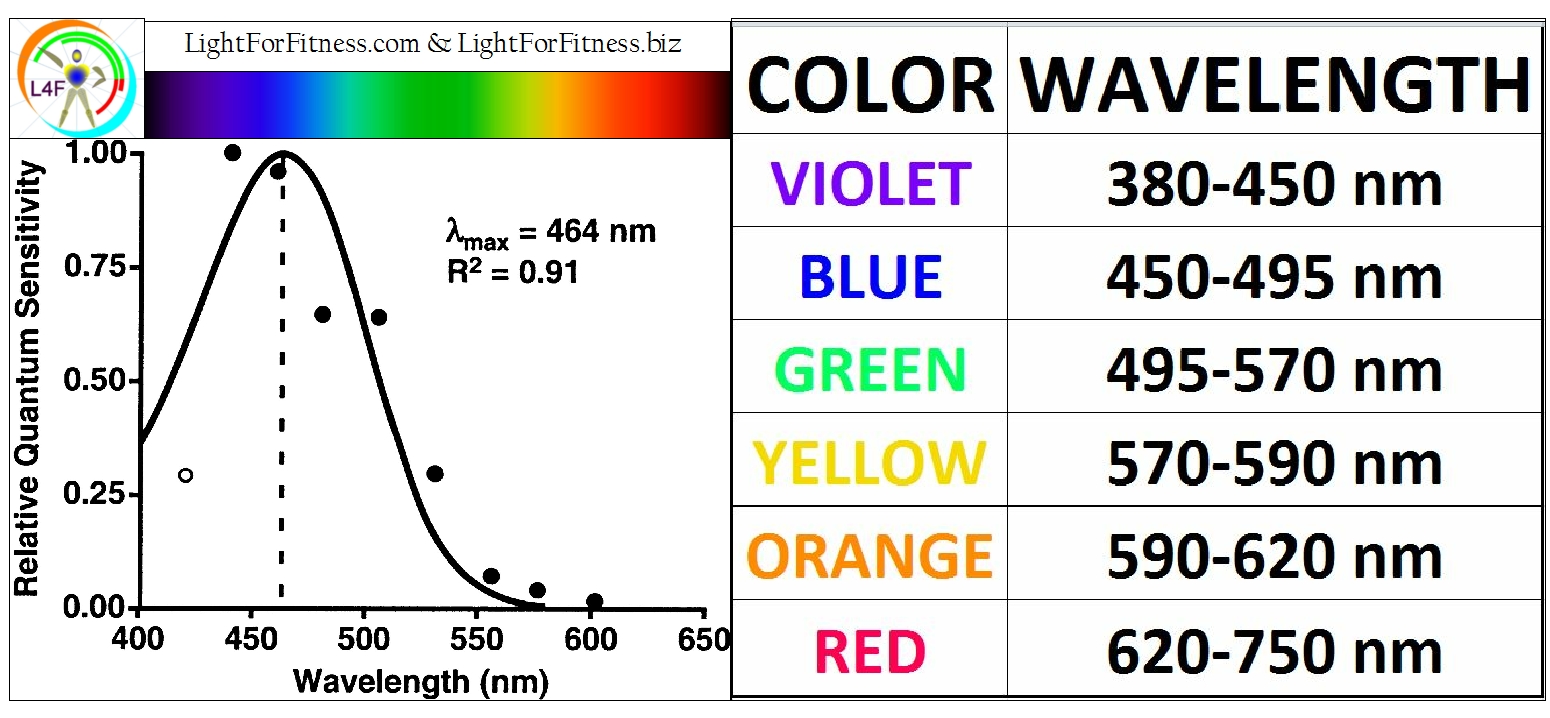 Recent research may imply that the peak value of the melatonin action spectrum, as seen above (@464 nm = blue), rather shifts to the right (possibly to approximately 500 nm = greenish blue) if the same experiment is done, but with some white light mixed into each pure test color. This means that there is a family of melatonin action spectrum graphs, likely all demonstrating a peak impact due to colors/wavelengths ranging from mid-green to mid-blue, depending on how much white light is added to a purified color.
Click to read this research paper and interpret it yourself:  Opponent Melanopsin and S-Cone Signals in the Human Pupillary Light Response
This research paper above,  from year 2014, implies that within any typical human lighting experience (not with purified colors/wavelengths), we need to be most attentive to the blue and green content/proportioning contained within the white light we use in our living spaces, especially during the evening time. White light is light that contains all colors/wavelengths, from red to violet. White light sources with enhanced amounts of green and blue light needs to be implemented intelligently in the human living space.
The important points to take away are these:
blue and green light have major impacts on bloodstream timing and amounts of melatonin
blue and green light is richly found during the outdoor sunlight mid-day experience
blue and green light is very diminished proportionally more than red, orange and yellow, during sunset
blue and green light in artificial lighting is proportioned the same as found in outdoor sunlight during mid-day
evening usage of typical artificial lighting confuses the master clock in the brain to believe its mid-day
manufacturers of artificial lighting purposely make bulbs with blue and green excess to improve perceived brightness
the purpose to wearing melatonin onset eyewear in the evening is to defeat this blue/green excess and resulting master clock confusion, thus avoiding the poor health affects caused by circadian disruption (Click how to use – MELATONIN ONSET EYEWEAR – simple plan )
---
EXPLANATIONS OF WORDS scroll up to read MELATONIN ACTION SPECTRUM
---
---
MAIN MENU scroll up to read MELATONIN ACTION SPECTRUM