MAIN MENU scroll down to read MELATONIN ONSET
---
---
EXPLANATIONS OF WORDS scroll down to read MELATONIN ONSET
---
Melatonin Onset: the time of day when the brain begins to release (onset=begin) melatonin into the bloodstream (see graph).
(CLICK GRAPHIC TO ENLARGE IT)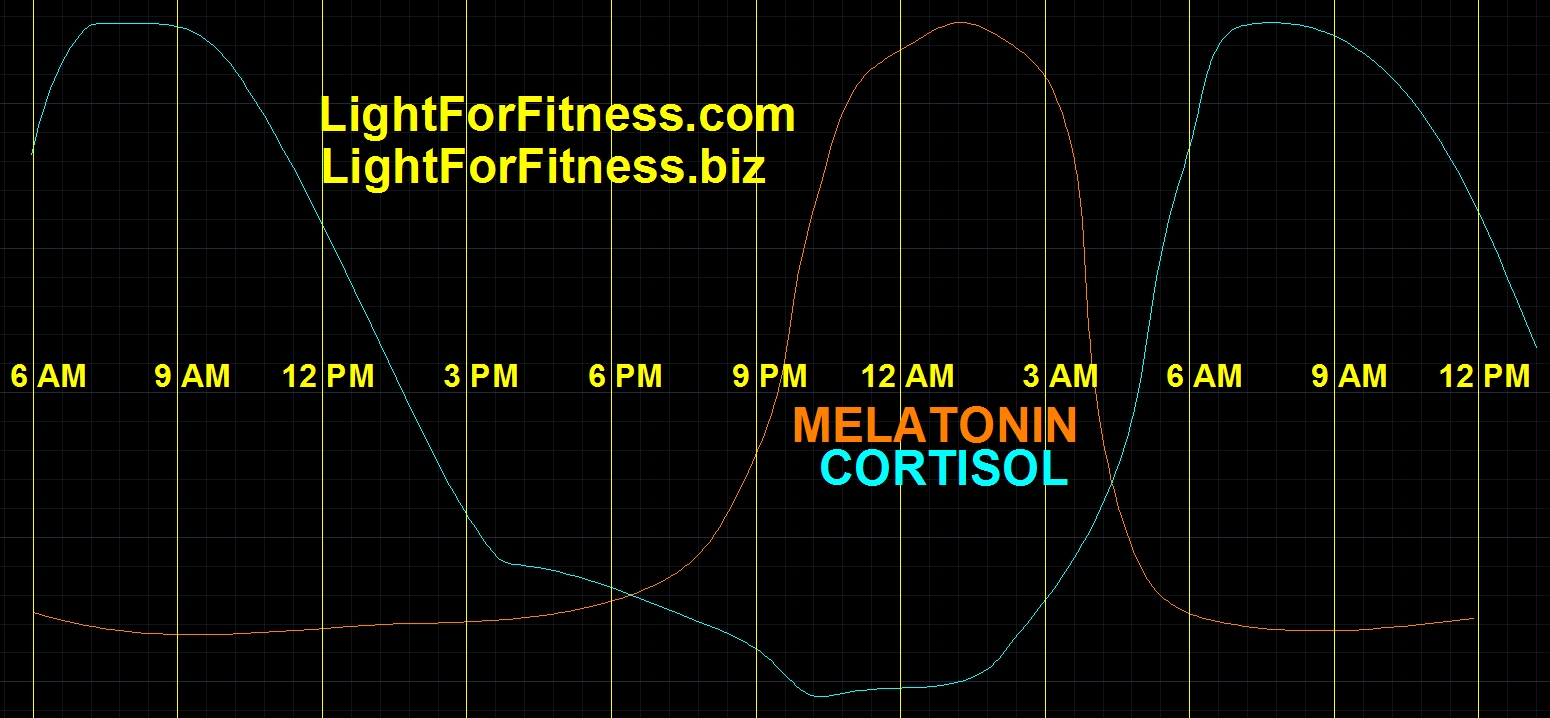 Left unchallenged, this release can last 11.5 hours while the pineal gland is operating at high output. That is a good thing. Poor light hygiene (causing a circadian disruption) could shorten this release time severely, shortening the time for cellular repair and over-extending the time for cellular productivity. This would wear out all the "little gears" in the cells prematurely and is often caused by a melatonin onset that is entrained too late followed by bright morning light that is too early, relative to the time evening "dim light" started. On the other hand, inadequate morning light can delay the scheduling when a cell should be productive, also resulting in issues, such as Seasonal Affective Disorder, also from an onset that is scheduled too late.
Remarkably, although the Master Clock in the brain may be accurately entrained to schedule this onset at the correct time prior to evening sleep, this onset can be completely STOPPED by a person's eye detecting TOO MUCH LIGHT (i.e. watching evening TV or light filtering under a bedroom doorway). The body, in this scenario, tends to err on the side of productivity and not repair.
Hence, there is the danger of artificial lighting overriding the correctly scheduled (entrained) melatonin onset altogether, and, if done chronically, this will substantially reduce cellular repair.
Light timing both entrains (schedules) melatonin onset and can also override a correctly entrained melatonin onset.  For entrainment purposes, a bright light exposure in the early morning moves (entrains) the timing of this onset to occur earlier for the next 24-hour cycle. A bright light exposure in the evenings entrains this onset to occur later for the following 24-hour cycle. The amounts of light seen during the morning and evening are the factors controlling when onset is entrained (scheduled). Balancing the opposing forces of advancing versus delaying the time of onset determines the time of onset for the next cycle.  A goal of proper light hygiene (for winter adaptation or equator adaptation) is to allow a continuous 11.5 hour release of melatonin into the bloodstream, which is only possible with adequate darkness for each 24-hour cycle. "Adequate darkness" here means either the absence of light or light with a very reduced amount of blue/green content. Such "darkness" light usually appears yellow, orange or red. Natural sunset light is an example of such "adequate darkness" light.
Technically, melatonin onset is formally called Dim Light Melatonin Onset DLMO in most of the scientific literature.
Click for MELATONIN pronunciation.
Click Pineal Gland to follow a logical sequence of explanation.
---
EXPLANATIONS OF WORDS scroll up to read MELATONIN ONSET
---
---
MAIN MENU scroll up to read MELATONIN ONSET