MAIN MENU scroll down to read CIRCADIAN LIGHT PHASE RESPONSE
---
---
EXPLANATIONS OF WORDS scroll down to read CIRCADIAN LIGHT PHASE RESPONSE
---
CIRCADIAN LIGHT PHASE RESPONSE: The following graphics are intended to be an improvement over the conventional manner in which this concept of light phase response is shown graphically, typically on a linear time graph (Phase_response_curve). Below, it is depicted on a circular 24-hour time chart. This more closely resembles how we visualize a time frame that equals a day.  A similar graphic is used in Understanding Timing  under the link how to use – MELATONIN ONSET EYEWEAR – simple plan. The purpose for repeating this information is to drive home some important concepts not adequately covered elsewhere on this website.
The chart below is merely illustrating that light that enters the eye after dinner and before bedtime has the most influence to delay the onset of melatonin for the following 24-hour cycle. Melatonin tells the cells of the body to repair themselves. Natural sunset light is what we are designed to experience during the after dinner time frame, and such natural sunset light prevents melatonin onset and cellular repair from becoming TOO DELAYED during the 24-hour cycle.
How is that?
Natural midday sunlight has even amounts of red, orange, yellow, green, blue and violet light. However, natural sunset light is rich in red, orange and yellow, and lacking in green, blue and violet.  Your eye and brain are expecting this reddening SUNSET SIGNAL to INITIATE your cells into the repair mode. Special photo-receivers on the retinas of our eyes inform the master clock in our brain what time of day it is by how much redder the light looks.
Hence, there is a danger in using artificial lighting during and after sunset.
Thomas Edison's incandescent light bulb provided a kind of light that could be interpreted by the eye and brain as a sunlight that's sometime after dinner but not quite sun-setting yet. Nikola Tesla's fluorescent lamp and the modern CFL provides light that can be interpreted as high noon, and the same is true for the new white LED light bulbs, TV, computer, and cell phone screens.
All of the new lighting technologies are worse than the incandescent bulb for evening light, as they have greater luminosities due to greater proportional amounts of blue and green light output. This purposeful light output design is driven by the fact that this is how consumers presently buy a lamp, by lumens per watt.
The newest technology, the white LED bulb,  presently comes in two major categories, the high (95 plus CRI) color rendering index variety and the cheaper variety with a lower CRI. The cheaper variety, which is the most commonly sold today, uses a BLUE ENGINE, as opposed to the VIOLET ENGINE used in the high 95 plus CRI type. This blue engine kind of LED likely moves this light source to the top of the list for types of evening lighting that will cause circadian disruption.
Fact: The newer lights that modern people are using AFTER DINNER are delaying their melatonin onsets too much.
Until the day arrives when all lighting and electronic screens are "sunset corrected" for the time of day, users need to have a strategy as to how they are going to "sunset correct" themselves or face the results of reduced mind, emotion and body repair times.
To not have "sunset corrected" light will reduce cellular repair times, increase disease and delay cortisol onset, making ones emotions and energy ill-suited for a productive day.
(CLICK ON ANY GRAPHIC TO ENLARGE IT)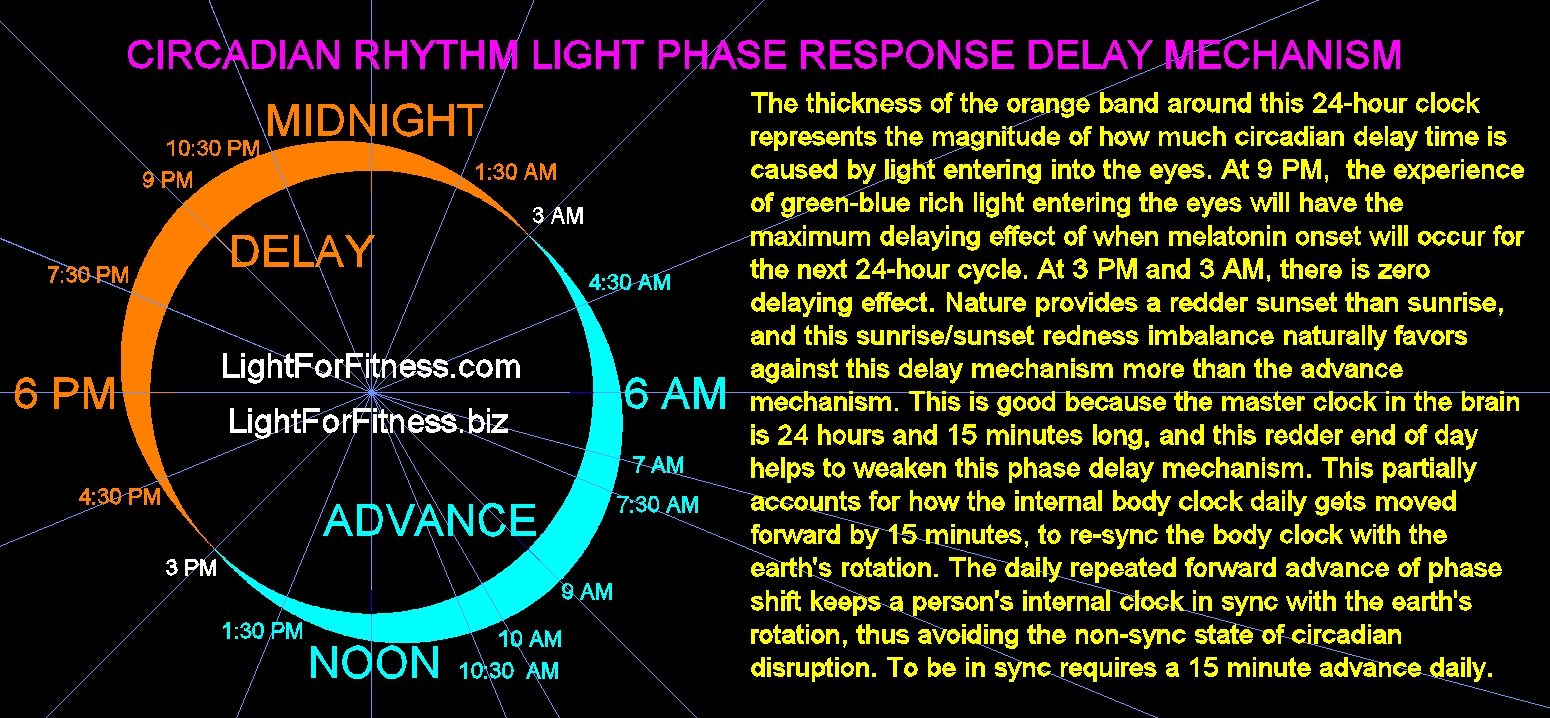 The graphic below illustrates that the light that enters our eyes from breakfast to lunch-time is the most effective light to advance the onset of melatonin for the following 24-hour cycle. Nature provides a greater amount of blue and green light during the sunrise experience than sunset, but this does not result in overly advancing melatonin onset for the following 24-hour cycle. The master clock in the brain requires itself to be reset 15 minutes earlier every day, for it assumes a day and night are 24 hours and 15 minutes long. Three amazing systems, the earth's rotation, differing atmospheric optics and our brain's master clock, all fit together like a ring on a hand in a glove. Morning outdoor deprivation and relying only on inadequate artificial lighting in the morning disrupts this natural design.
Artificial lighting during the time between breakfast and lunch is often too weak to adequately advance melatonin onset. Persons prone to SAD (seasonal affective disorder) can start noticing symptoms as early as AUGUST when the days begin to shorten. These folks are very sensitive to the delay of cortisol that results from the delay of melatonin.
The fix is to get more sunlight in the morning and, if that is not possible, to buy more lighting (10,000 lux of white light hitting the eyes is suggested as a good amount for morning circadian advancing) or get CYAN SAD lamps, as this color is most effective to advance the circadian rhythm and far fewer lux are required to do the same job as white light.
(CLICK ON ANY GRAPHIC TO ENLARGE IT)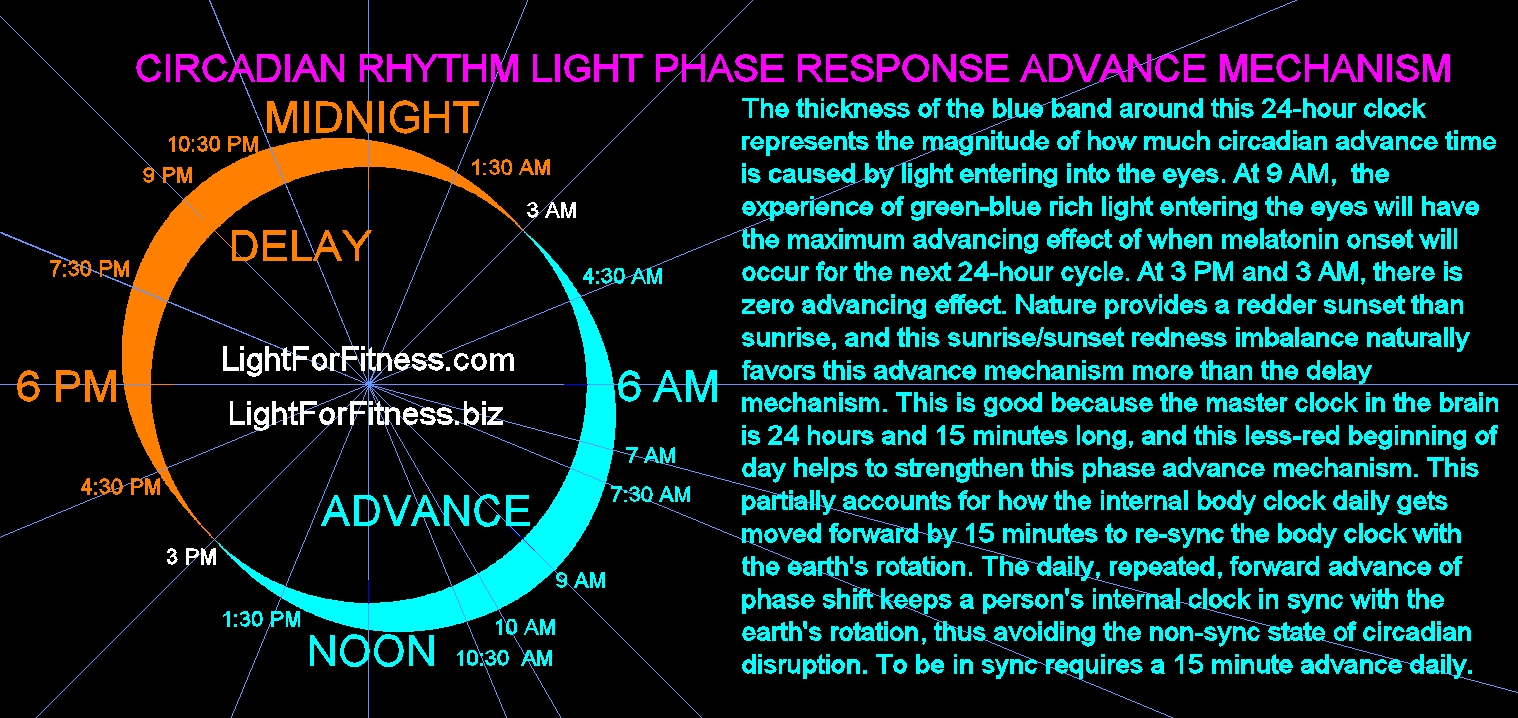 Click for CIRCADIAN pronunciation.
Click Chronotype to follow logical sequence of explanation.
---
EXPLANATIONS OF WORDS scroll up to read CIRCADIAN LIGHT PHASE RESPONSE
---
---
MAIN MENU scroll up to read CIRCADIAN LIGHT PHASE RESPONSE