Home         how to use – MELATONIN ONSET EYEWEAR – simple plan         how to choose – LENS COLOR         why – CHEAP GLASSES perform inferior         WHY?         Scientific Papers          Privacy Policy         Light Hygiene Strategies for Circadian Disruption Prevention FACEBOOK GROUP         LINKS

---
---
 MAIN MENU scroll down to read ABOUT MY TRANSFORMATION
ABOUT MY TRANSFORMATION
Hi, my name is Alan Haungs, I am the owner of LightForFitness.com and LightForFitness.biz. Below is the story of how I was inspired to create such website names. Long story made short, this is about my application of light hygiene to overcome the poor health effects I experienced due to circadian disruption. 
LIGHT FOR FITNESS is the name for you to remember us by, but the original and actual company name is High-Extraction Full-Color Home LED Lighting, LLC. Originally, you would need to type in the long name to find my business online, but today LightForFitness.com suffices.
The name change occurred for two reasons, "Light for Fitness" is easier to remember, BUT more importantly, once I experimented with and experienced the personal benefits of proper light-hygiene, I realized that this is the perfect new name.
MY JOURNEY:
A heart attack in 2011 changed my life forever. After that close call, I decided to lose weight and was placed on a cocktail of drugs by my doctors. I originally lost some weight by eating less, but a couple of years later I learned about the 5/2 diet plan, which helped me lose even more weight.
My picture shown at the very top of this webpage was taken in December 2015, in my Light For Fitness business' office, 4 years and 9 months after my heart attack. One of my customers took this picture, it illustrates how much change I have undergone because of the practice of improved light hygiene.
The picture below is merely 10 months prior to my heart attack,  as I was in the process of  gaining weight while working on my Master's degree.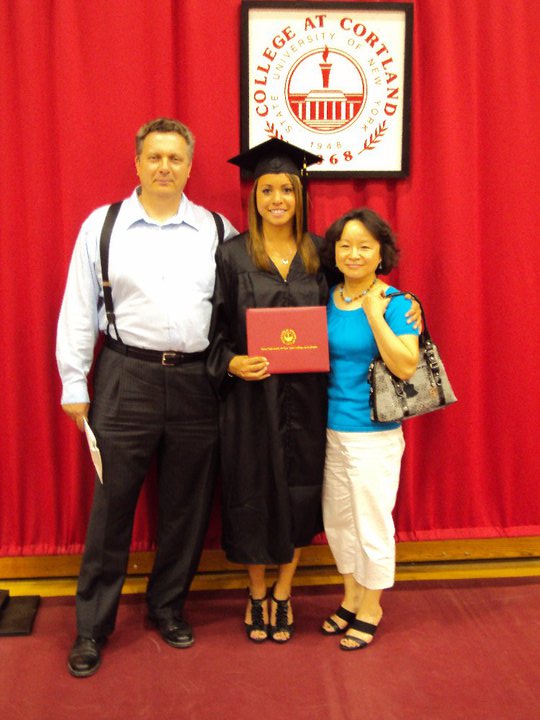 This picture below shows a picture of myself a mere two months after my heart attack. I had begun to lose weight.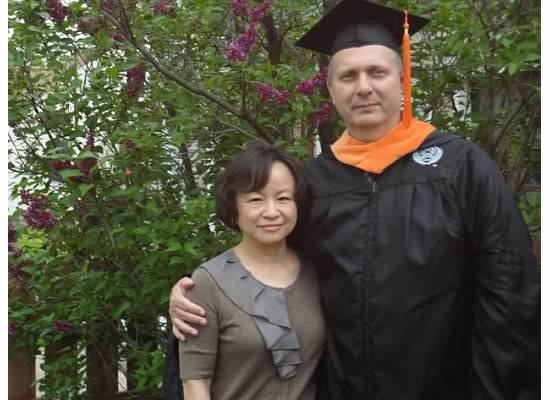 See my picture below, 1 year and 7 months after my heart attack.  Although weight loss was occurring, but as you can see, I was considerably heavier then than now.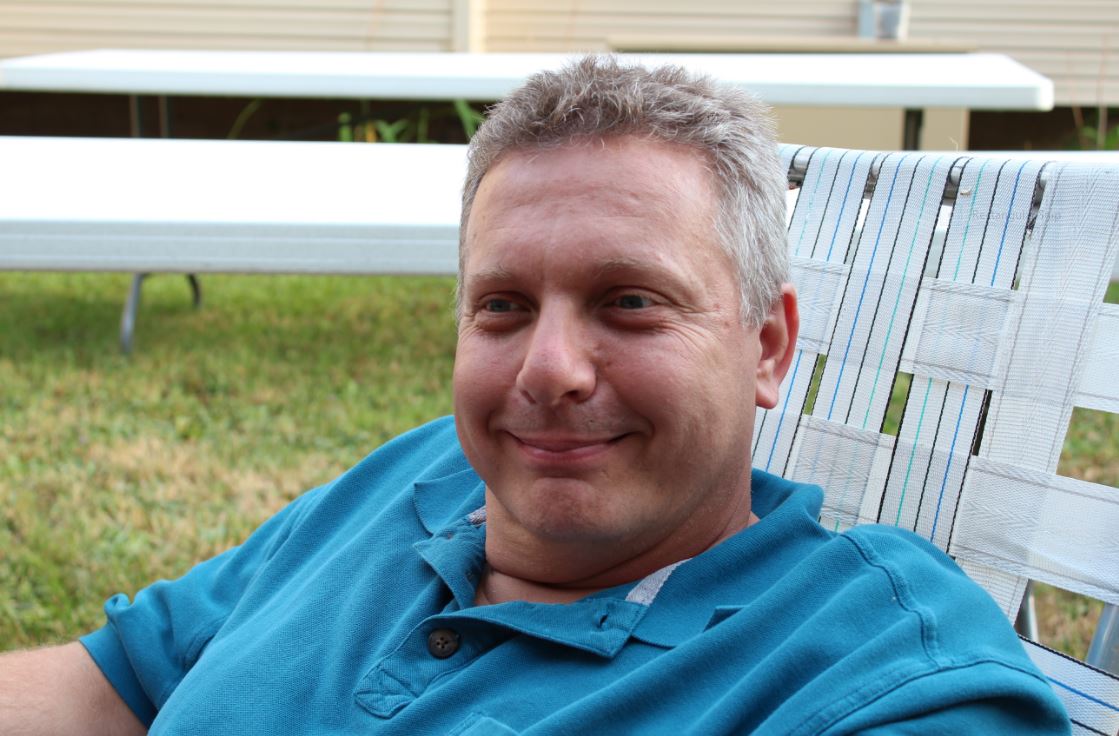 Two years on the 5/2 diet plan (each week, 5 days normal eating, 2 days only 500 calories per day), planted me on "third base" in my new quest for better health, but I made it to "home base" AFTER I put my proper light-hygiene plan into practice. Within a few short months of proper light-hygiene, my blood sugar, triglyceride and cholesterol numbers had improved significantly, and this allowed me to graduate, from a life of having a medicine cabinet totally filled with prescription pill bottles, to only needing aspirin, WITH my doctor's blessing.
Light-hygiene primarily improved those blood numbers, more than dieting, and even SURPASSED the performance of the drugs. My doctor was shocked by this turn of events, brought about by my decision to experiment (between my next routine 3-month blood lab-results and checkup) by dropping the drugs and relying solely on light-hygiene. Sitting before him while we waited for my numbers to appear on his computer screen, I could see he was preparing to lecture me about my experiment, but then suddenly his facial expression changed. He looked up at me from his computer and said, "The proof is in the pudding, continue to do as you are". So from that day forward, I still continue to practice the 5/2 diet, light-hygiene, and only take the prescribed aspirin daily.
But, my story doesn't end here as this is a story about improved fitness, and why "fitness" belongs to the new website name.
I went from fat to thin, and then from thin to fitter. How is this possible?
Coincidentally, I started a morning workout routine mere days before that doctor visit when I discovered that my sugar, triglycerides and cholesterol numbers had improved radically.
WHY did I NOW institute a morning workout routine?
According to science, the corrected light-hygiene positively changed the timing and amounts of the hormones melatonin and cortisol in my body. This explains why my caffeine routine in the morning had now become absolutely unnecessary, and I found myself waking up earlier and more refreshed than ever before. Proper light-hygiene was now ENABLING me to look forward to going to the gym before work in the morning, and, when I got there, to work and sweat hard.
Prior to my light-hygiene program, I was unable to work out in the mornings to the point of sweating. My body-core temperature was too low when I woke up in the morning because my cortisol and melatonin onsets were delayed and inadequate. In fact, this is the case with most Americans who use artificial lighting, TV, computers and cell phones in the evenings. But with my light-hygiene program in place, in addition to my morning energy boost, I also experienced a reduction in carb cravings in the evening, because my body was no longer biologically permanently fixed in a perpetual summer adaptation (long days, short nights). Such mis-timed summer adaptation is caused by improper evening artificial lighting. (Biologically correct summer adaptation should only occur in the summer not all year-long). Naturally occurring long daylight (or evening artificial lighting) informs the body it is summer, a time when the earth makes more carbs available (like fruit) as this is the correct time to crave and eat more carbs in preparation for the coming winter. ("Lights on" at night in a chicken coop makes the birds eat more and grow fatter. This trick should not be repeated in your home, as it works the same with humans also).
Poor light-hygiene is now known to contribute to human obesity, insomnia, heart disease, diabetes, mental illnesses, and cancers of the breast, colon and prostate. It erodes mental function and aggravates and amplifies many pre-existing maladies. It is now known that every cell in one's body is greatly affected by one's light-hygiene habits.
I was first made aware of this fact about light-hygiene during my preparation for my Master's thesis and defense as an Electrical Engineering student, for which I designed and built a Light Toxicity Chamber for the VA Hospital in Buffalo, for researcher's to use to blind mice in their quest to defeat human eye diseases and blindness. (The mice used in these experiments are albino mice which will naturally go blind before death due to a lack of retinal pigmentation. The light toxicity chamber greatly accelerates and shortens this process.)
To see my Graduate Thesis simply Google (gradworks.umi.com/14/95/1495437.html) and you will find the link, or Google "Light Toxicity Chamber" and look for the title, Improved Design and Fabrication of Light Toxicity Chamber used for Light Induced Retinal Degeneration in Mice.
Why was my Master's thesis key in my evolution of thought?
Well, the secret to blinding a mouse IS NOT bright light. It requires only moderate amounts of light AFTER the mouse has experienced a time of poor light-hygiene (1 week). It is then exposed to 24 hours of moderate light of the right color.
The fancy term for the end result caused by exposing the mouse to poor light-hygiene is 'circadian disruption'. First, we weakened (circadian disrupted) the mouse by using ill-timed, moderate-brightness white light. Then we used ill-timed moderate amounts of bluish green light (which normally would be of no effect, but was instead now a toxin to the eye) to kill the rods and cones on the retinas of the mice.
The lesson here is that circadian disruption (a disruption of the normal 24-hour light/dark cycle) GREATLY weakens an organism and increases the probability that a given stressor can be promoted to a biological injury.
Upon witnessing this blinding effect first-hand through the use of my light-toxicity machine, my path evolved from only being interested in inventing better, brighter LEDs to a path that factored the profound biological effects of the wrong light into my understanding, especially as it relates to human-habitat LED-lighting technologies.
Incredibly, despite having such first-hand knowledge, it took me about 3 years to figure out how to personally benefit from it within my own 'human-habitat'. Ironically, the poor light-hygiene and resulting circadian disruption I subjected myself to as I prepared my Master's thesis and defense, while fabricating my version of a Light Toxicity Chamber (working on it night and day in my brightly lit shop), contributed to my 2011 heart attack. My heart attack occurred while we were very successfully blinding mice with my new invention, and I was merely half a semester from graduating.
Unfortunately for the mice, they were dissected to observe the effects of my machine on their retinas. Fortunately for me, despite the heart attack, I survived and successfully completed my Master's thesis process, graduating on time, and later starting my own business.
I eventually figured out how to benefit from my ever-increasing knowledge about light-hygiene and circadian disruption. Consequently, I now have inventions that allow me to be very careful about the light that enters my eye during the evening hours–when, how much, and what color composition.
It is not an exaggeration to state that almost all Americans today unwittingly subject themselves to a "light toxicity chamber" within their own homes.
Ask yourself this one question, "Am I taking prescriptions to counter-act the possible effects of a circadian disruption that might be otherwise improved or healed by a light-hygiene plan"?
Soon, I hope you will discover your own "Light for Fitness" story too.
Sincerely yours,
Alan C Haungs
Owner of High Extraction Full Color Home LED Lighting, LLC and LightForFitness.com and LightForFitness.biz
ITS THE FIRST FRIDAY OF THE MONTH OF APRIL 2015,  AND THE WIFE AND I ARE ENJOYING A NIGHT OUT ON THE TOWN, CONTRA-DANCING IN FREDONIA (NY),  in GRANGE HALL #1.  AS YOU CAN SEE FROM THE WINDOWS, THE EVENING IS YOUNG.
(Click on picture to enlarge).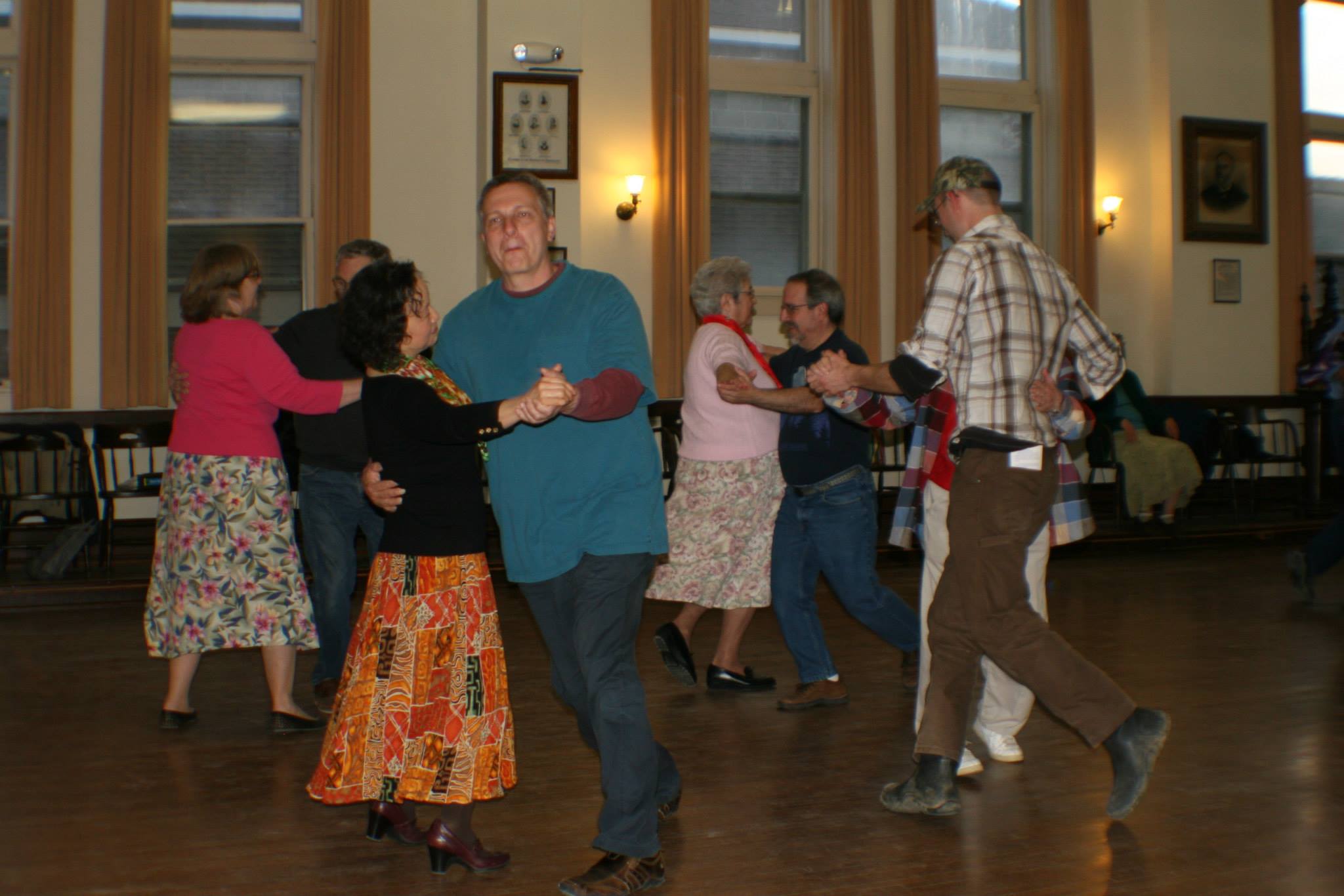 BUT ONCE SUNSET HAS BEGUN, I BEGIN TO WEAR MELATONIN ONSET EYEWEAR.
CLICK HERE TO LEARN  how to use – MELATONIN ONSET EYEWEAR – simple plan
(Click on picture to enlarge).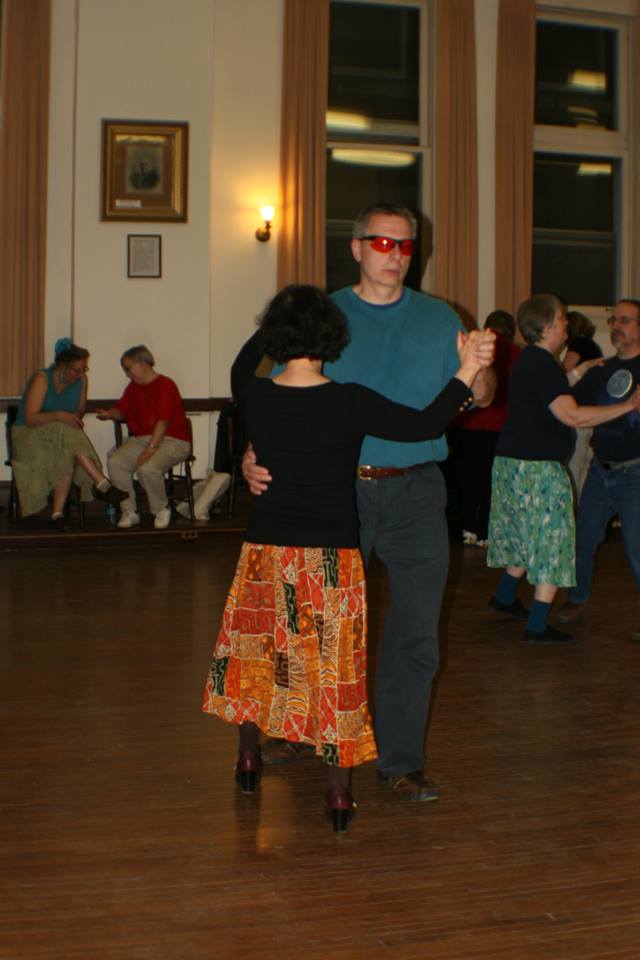 (Click on picture to enlarge). Below is Frame 34 and 34W. This is what I am wearing at the Contra-dance. My prescription lenses are held in the removable lenses holder that clicks in place. Take the empty lens holder to your eye doctor to have your prescription lenses filled into it. It then is optional, if you want to wear these glasses with or without the prescription lenses, as the lens holder quickly clicks into place.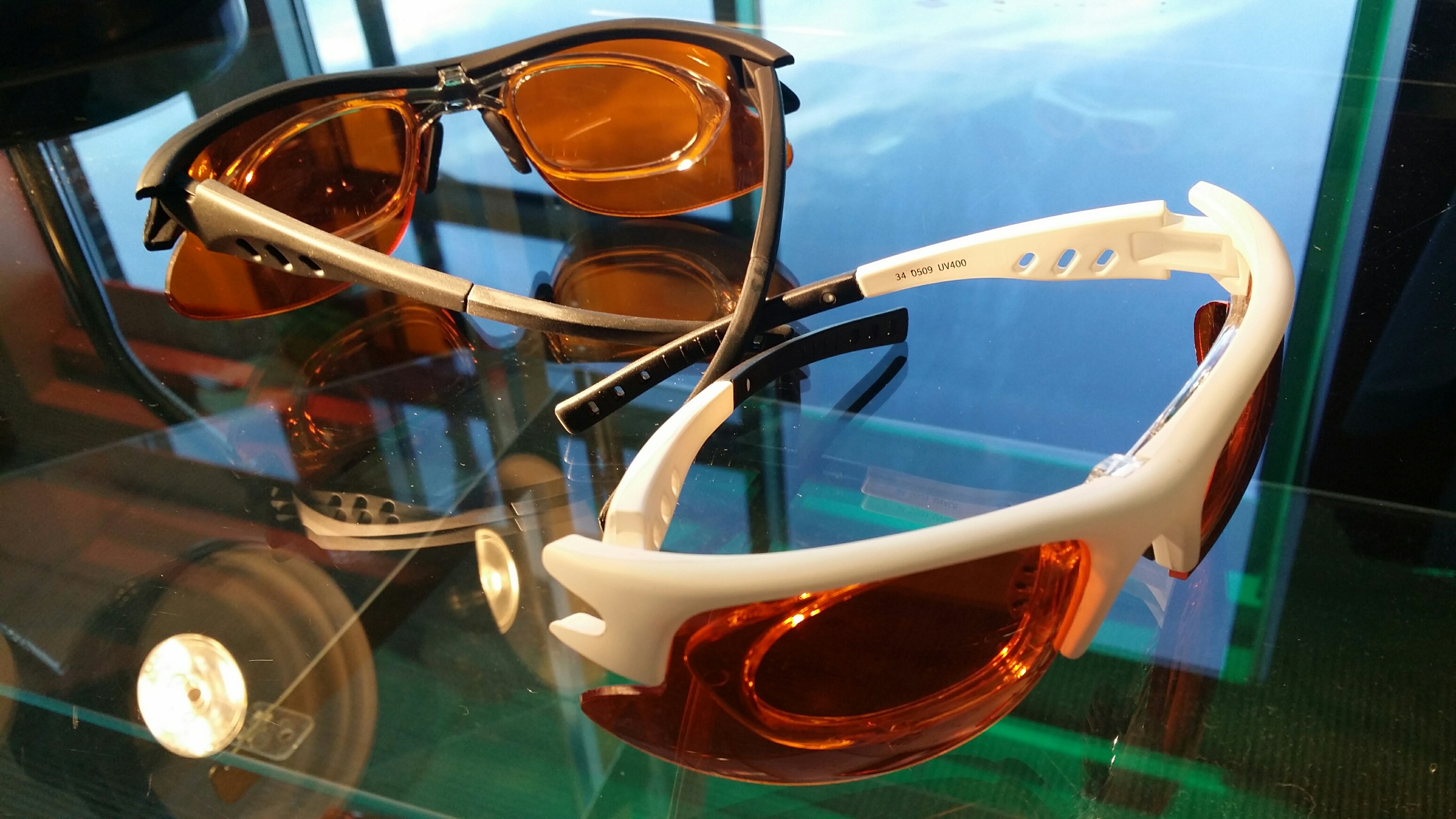 CLICK HERE TO LEARN  how to use – MELATONIN ONSET EYEWEAR – simple plan
---
---
MAIN MENU scroll up to read ABOUT MY TRANSFORMATION