MAIN MENU scroll down to read  Concluding Words
---
---
how to use – MELATONIN ONSET EYEWEAR – simple plan scroll down to read  Concluding Words
---
CONCLUDING WORDS
After reading about the different wearing plans for melatonin onset eyewear, you should have a good feeling regarding how to start experimenting with the plan of your choice. My wife (a very healthy person) created her own plan. She always wears the melatonin onset eyewear two hours before going to sleep because she noticed that it helps her to awake easier at 5:30 AM. This is due to her deeper REM sleep. Wearing melatonin onset eyewear promotes the advance of the onset timing to occur before sleep time, which results in a deeper and more productive sleep. So, her personal plan is much more lax than the plans I have suggested because she feels that's good enough.
But, persons such as myself who are recovering from past injury (heart attack) or persons who are suffering from present diseases of the mind or body, may choose a more aggressive and strict plan. The stricter plans are intended to greatly increase melatonin release time by advancing its onset timing. More melatonin release time equates to more body and mind repair time.
Now, as promised, we come to our final point of interest on Alan's and James' clock, 10 AM.
(CLICK ON ANY GRAPHIC TO ENLARGE IT TO FILL THE SCREEN).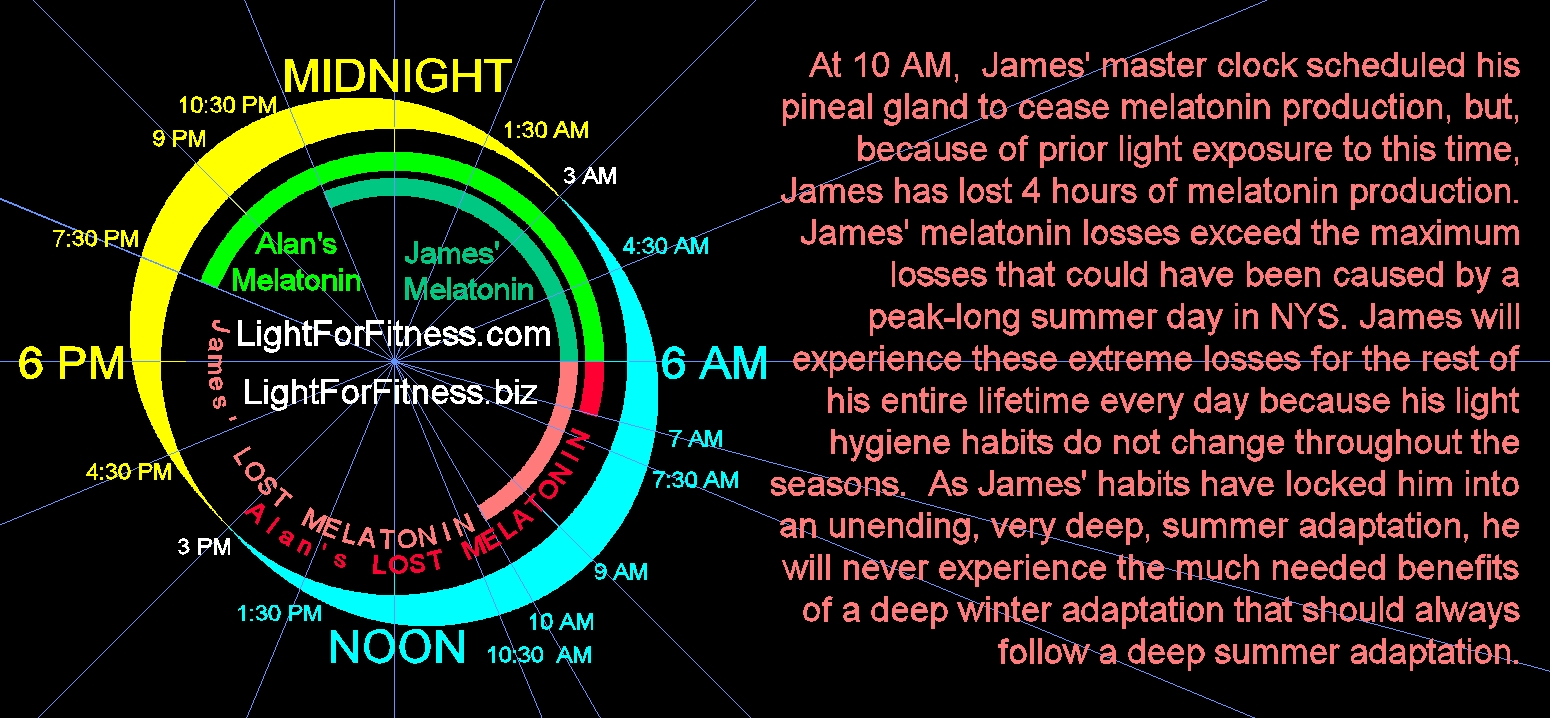 People like James (following the NO-PLAN plan) will have a greater likelihood of cancers of the breast, prostrate, and colon. Also, they are more likely to be obese, have diabetes, heart disease, plus mental and emotional diseases and distresses. James will age earlier and live life less robustly while he is alive than he should of have, had his melatonin release time of been maximized for a portion of the year. James has locked himself into a deep summer adaptation with no winter adaptation to follow, which winter adaptation could have balanced out the summer adaptation strains imposed, and vice versa.
For all 365 days of the year, James experiences night darkness times that are only 15 minutes different than what is experienced temporarily and naturally in the peak of the super long days of summer in Winnipeg, Canada. (See graph below). James never experiences 11.5 hours of melatonin release, as opposed to the people in Winnipeg who could naturally experience it for slightly more than half of the year (assuming the people of Winnipeg are following the home-town plan). James' typical, daily experience of melatonin loss matches the short term and temporary worst case losses that nature imposes on Winnipeg!
Nature, at 50 degrees latitude, is more kind to the people of Winnipeg than James is to himself by virtue of his abuse of artificial lighting without protecting himself.
I was once a James, and suffered the consequences of it, but later found a healthier way to practice living, even re-discovering fitness. I hope you will also develop your own light for fitness plan too.
Sincerely yours,
Alan Haungs
(CLICK ON ANY GRAPHIC TO ENLARGE IT TO FILL THE SCREEN).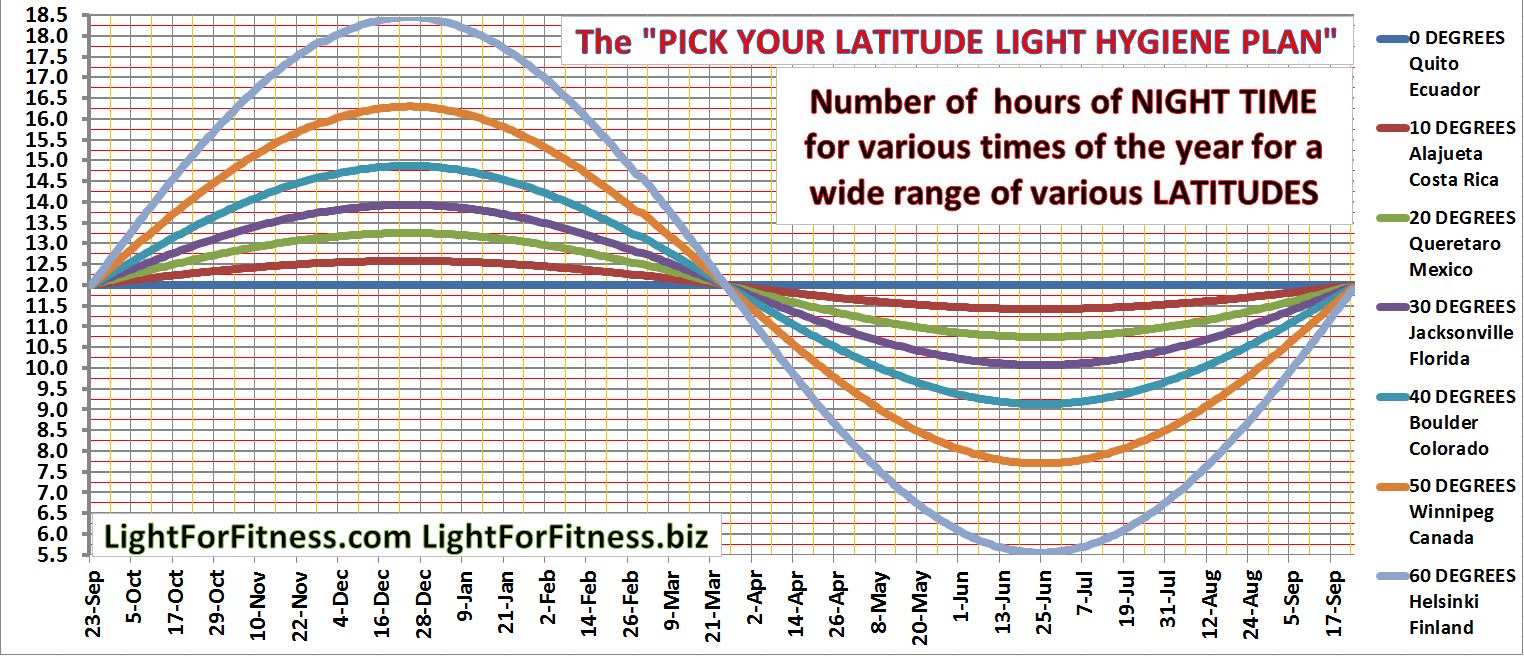 ---
how to use – MELATONIN ONSET EYEWEAR – simple plan scroll up to read  Concluding Words
---
---
MAIN MENU scroll up to read  Concluding Words