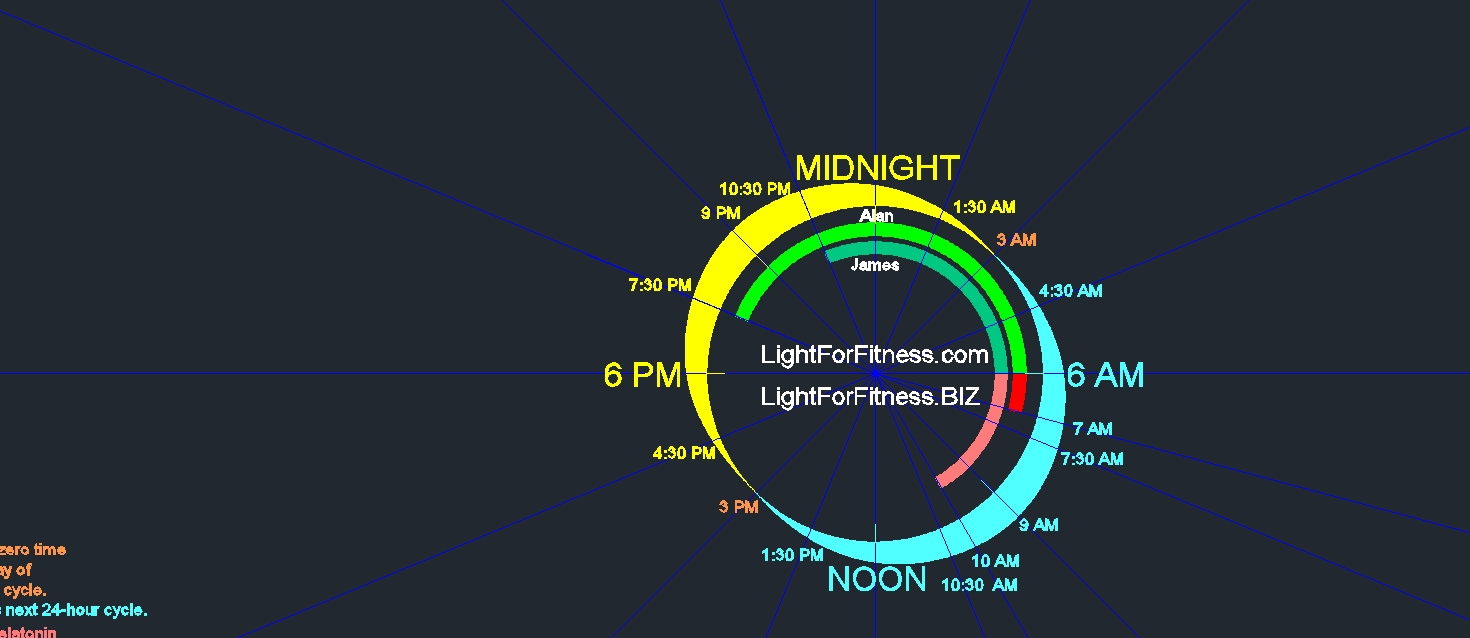 MAIN MENU scroll down to read  Understanding Timing
---
---
how to use – MELATONIN ONSET EYEWEAR – simple plan scroll down to read  Understanding Timing
---
UNDERSTANDING TIMING
To develop a personal usage plan for wearing melatonin onset eyewear, one must first understand how eye light exposure timing affects melatonin onset timing. After touching upon all the items in the table of contents above, one will have a very good basis for tailoring an individualized plan.  This and the following topics are for those who may have discovered that the Simple Plan didn't work well enough,  or just want to have a better understanding.
The 24-hour clock graphic below will be used over and over as we descriptively walk around this clock. So, first allow your eyes to passively roam this graphic to familiarize yourself with how it is laid out. As you can see, it tells the comparative stories of  two men,  Alan and James. We will have completed an entire walk around this clock once we finish reading every item in the table of contents, which table ends with 'Concluding Words'.
(CLICK ON ANY GRAPHIC TO ENLARGE IT TO FILL THE SCREEN).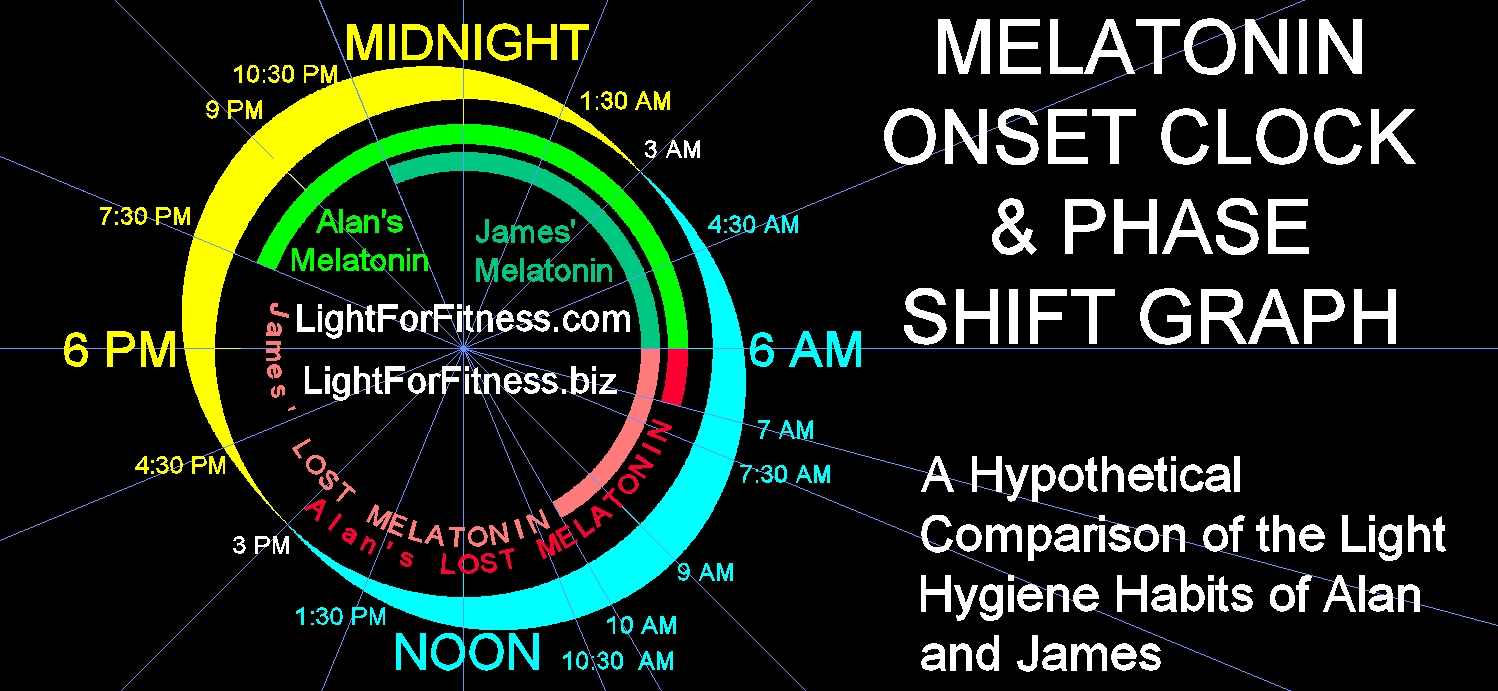 We will start our walk around this clock at 7:30PM, when the first important event of the night occurs for Alan and James. (CLICK ON ANY GRAPHIC TO ENLARGE IT TO FILL THE SCREEN).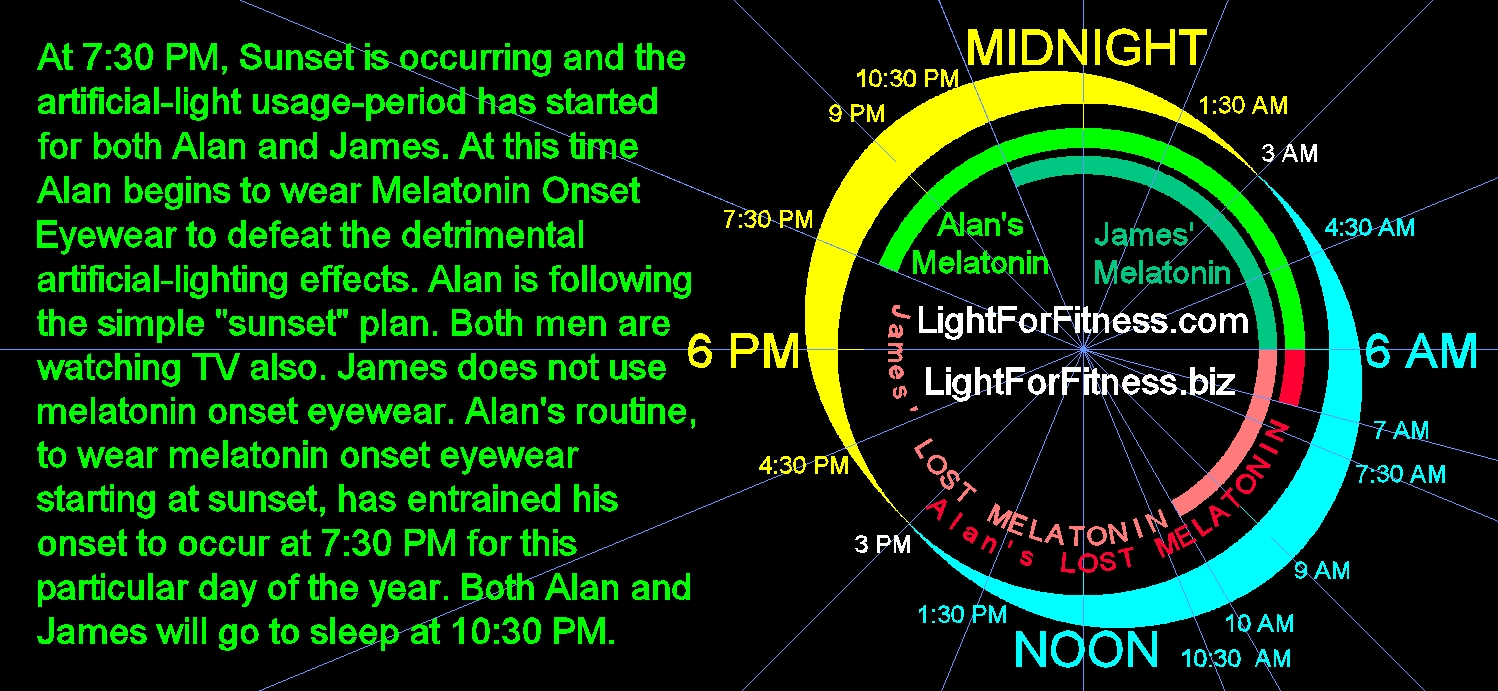 7:30 PM happens to be the approximate time for sunset for the particular season this graphic illustrates, which is late September in the Great Lakes area. Note how this graphic illustrates that Alan's melatonin onset begins at 7:30 PM, is caused by his routine habit of wearing melatonin onset eyewear which has naturally scheduled (entrained) this onset to occur at this time of sunset. Also note on this graphic, this is not the case for James who has the TV on and is not wearing melatonin onset eyewear.
We have now set the stage to compare the two men.
Our next stop along this clock is 9 PM. Go to delaying, the next item in the table of contents, to continue.
---
how to use – MELATONIN ONSET EYEWEAR – simple plan scroll up to read  Understanding Timing
---
---
MAIN MENU scroll up to read  Understanding Timing