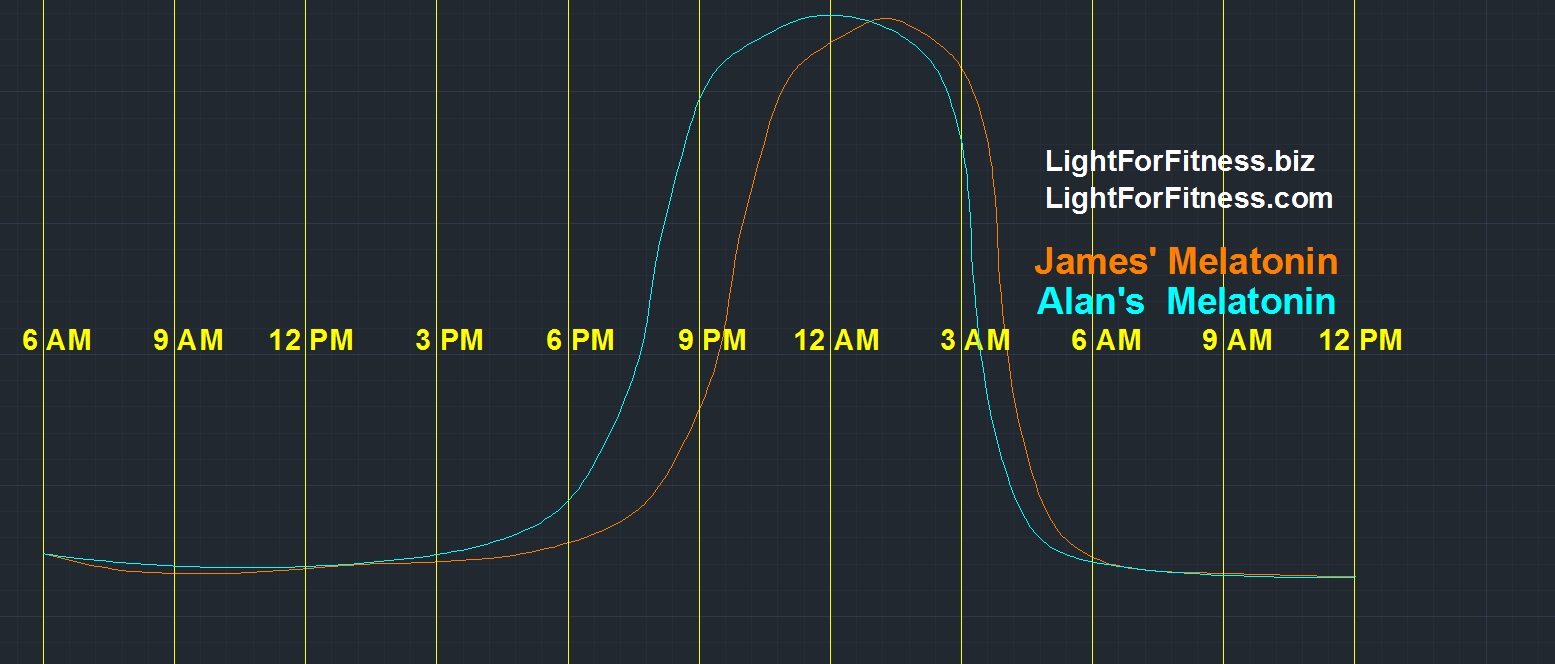 MAIN MENU scroll down to read  how to use – MELATONIN ONSET EYEWEAR – simple plan
---
---
how to use – MELATONIN ONSET EYEWEAR – simple plan scroll down to read  how to use – MELATONIN ONSET EYEWEAR – simple plan
---
HOW TO USE MELATONIN ONSET EYEWEAR- THE SIMPLE PLAN
(CLICK ON ANY GRAPHIC TO ENLARGE IT TO FILL THE SCREEN).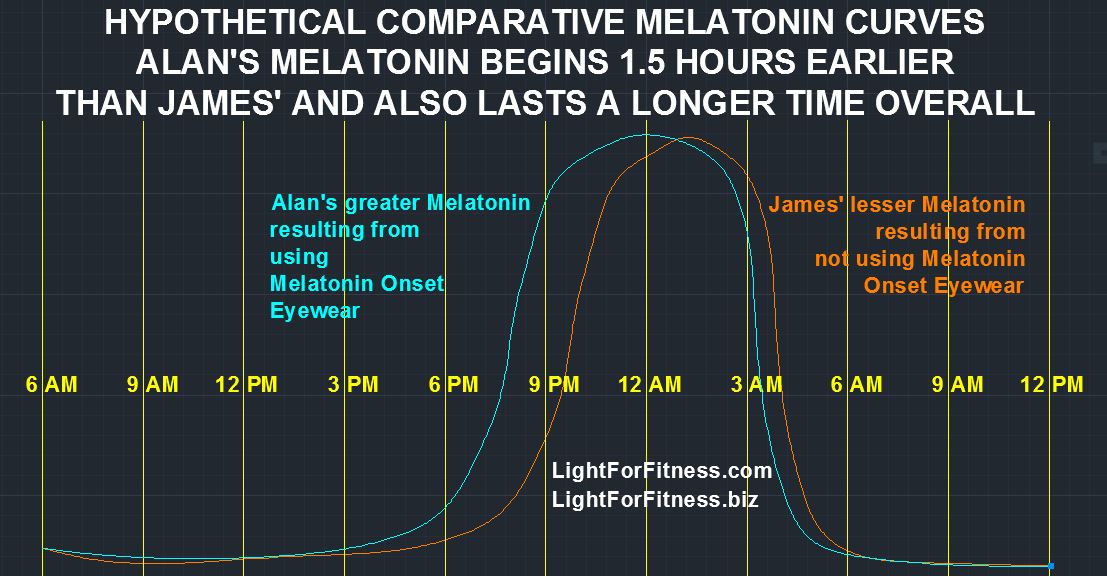 As you are now considering wearing Melatonin Onset Eyewear, here is a guide for those who want to understand when to wear such eyewear. The goal of such eyewear is illustrated above. Click image above to see it in a full screen.
As seen above, Alan is enjoying the benefits of more naturally occurring melatonin in his bloodstream than James because Alan wears melatonin onset eyewear hours before sleeping. James never wears melatonin onset eyewear. Alan's onset (beginning) of melatonin is earlier than James' despite that the sleep habits of both men are the same. Both go to sleep at night and awake in the morning the same time.
Alan begins to wear his melatonin onset eyewear at sunset. (HE NEVER WEARS THEM WHEN DRIVING AT NIGHT, FOR THAT WOULD BE VERY DANGEROUS AND PROBABLY UNNECESSARY TO PRESERVE HIS DESIRED ONSET TIMING).
Showering at night can be done in the dark with moonlight or candlelight if sunset has already occurred.
After sunset, Alan avoids all eye exposures to artificial light sources and TV and computer screens unless he is wearing his glasses. This even includes date nights with his wife in a movie theater or on the dance floor. He takes them off while sleeping and does not wear them once he awakes the next morning. They are used before sleep time, worn once sunset has begun.
IT IS THIS SIMPLE! You now know when to wear melatonin onset eyewear by using the 'simple plan'. Put them on at sunset.
When daylight saving time moves the clock backward one hour in fall, you'll find yourself gaining one hour and wearing the glasses one hour earlier, as suddenly the sun sets earlier. In Alan's case, this would mean that he is allowing more than enough time for the maximum production of melatonin that his pineal gland can make once the fall hour shift happens.
Remember do not wear them when driving at night, it is not necessary nor safe.
But this simple plan is not the only formula, or even the best, for wearing melatonin onset eyewear. People who are interested in experimenting might receive greater benefits from an alternative wearing plan that they tailored for themselves. For those who want to experiment beyond the simple plan or just want to understand more, continue to read on.
WHY EXPERIMENT AND DEVELOP YOUR OWN TAILORED PLAN?
Because some people have an extremely rough time adapting to the shorter days of winter (Seasonal Affective Disorder, S.A.D.) or maybe the longer days of summer (summer-time diabetes), which issues the simple plan does not address completely. For those who fall into this more complex category, or are just interested in learning more, they will want to read on further and understand the science better.
Follow through the table of contents below, click now on Understanding Timing to prepare yourself to learn about tailoring a usage plan specific for your needs.
---
how to use – MELATONIN ONSET EYEWEAR – simple plan scroll up to read  how to use – MELATONIN ONSET EYEWEAR – simple plan
---
---
MAIN MENU scroll up to read  how to use – MELATONIN ONSET EYEWEAR – simple plan